I got a surprise message from one of my oldest friends, M.S.S. I don't mean that he's aged, just that we became friends a long, long time ago when I was 11 and he was 10. I had just moved to California and even though all the cliques were already solidly formed, he was super friendly and always eager to make me feel welcome.
Growing up as an Army brat, we moved a lot. I often got in big trouble when I was very young, and I also managed to get my friends in trouble as well. A lot of innocent people followed my lead and we all ended up getting into hot water because of it. I was pretty self-focused and I realized that my best friends were always the people who honestly pointed out the qualities I had that really irritated them, and the ways they wished I could improve. And each time I moved, I would resolve to stop being the person who hurt my friends. What a special opportunity it was to move and meet all new people who didn't know all my faults and shortcomings. I would just pretend I was a person who didn't have those faults, and before long they were gone (or lessened), and I felt better about who I was with each big upheaval of a move to another place.
My friend M. was very understated. I don't remember him ever getting angry with me or lecturing me about my faults. Instead, he led by way of example. He was a bright light in the darkness. I still got him into trouble from time to time, but he had such a warm and caring heart that I really wanted to be like that. And somehow it started a ball rolling that changed me forever. I was also really impatient, and I often would marvel at how serene he was even when frustrated.
So it was very special to get a message from him, and even more special to read the contents: before being deployed overseas, he wanted to fly halfway across the world for a visit. I was overjoyed! I was also pretty humbled that someone would make me the goal of such a long journey.
It had been about ten years since I saw him last, so I was eager to catch up. I picked him up at the airport and we caught up at my house for a while. He found a nice local hotel and arranged to stay there. I felt bad not being able to put him up in luxury but with 5 people in my house and 4 bedrooms, the best accommodation I have to offer is a couch or an easy chair, and those come with two psychotic cats who are hell-bent on rubbing their butts in your face all night long. The kids could give up one of their rooms but it would take a couple weeks of purification rituals to make that a clean and tidy, viable guest room option. Sigh.
On Monday we met my friend H. for lunch at Taco Addicts, one of our favorite taco spots. I love their choriqueso and tacos al pastor, but on my low-carb diet, tortillas were off the menu until I discovered La Banderita's zero-net-carb street tacos… what a life saver! Anyway, I couldn't have the choriqueso with carb-y tortilla chips but I wanted M. to try it, and he asked the server if they could make chicharrones, and they were perfect with choriqueso. So now that's an order I make every time. I also found out that M. eats low carb/keto as well, so it made choosing places to eat and dishes that much easier.
I took him to the Sarah P. Duke Gardens on the campus of Duke University. It's a place where I like to go to de-stress and unwind, surrounded by many beautiful places.
You can't really come to North Carolina and not visit The Angus Barn, so at the suggestion of my good friend L., I took him to a nice dinner there. They were so accommodating of our dietary limitations, and even made my Caesar salad without croutons! Swoon! I had a 22oz steak (so I would have some leftovers for breakfast), that still makes my knees weak when I think about it.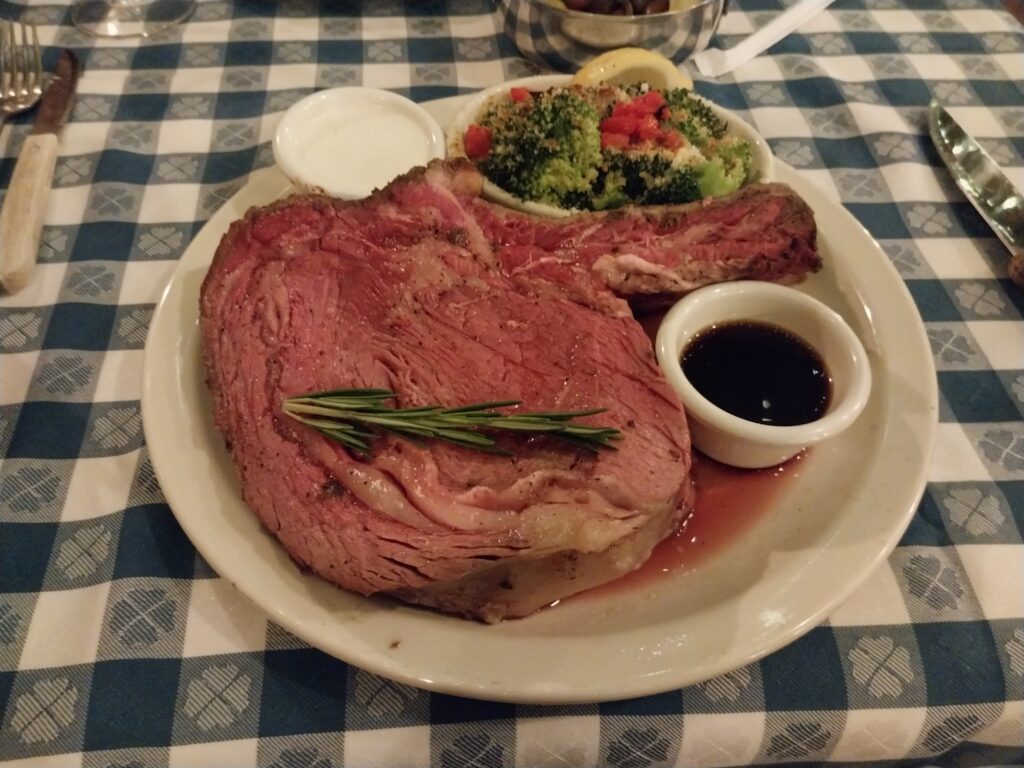 I took my friend M. to the Turkish restaurant that me and my lunch bunch friends meet at every Wednesday, and we had an excellent meal and my friends really enjoyed visiting with him. It's rare in general that I have a friend that my other friends get along with. My lunch bunch friends are a good exception to that rule, though, they are very gracious, welcoming, and full of hospitality. Classy folks!
On Tuesday, M. took me to the cancer center for my chemotherapy and met my oncologist, and hung out with me in the infusion clinic. My wife's job had a staffing crisis due to the death of a beloved co-worker and it was convenient that M. could take me instead. He expertly drove my electric Smart car and I found out he has a Nissan Leaf at home. We just have so many interesting parallels in our lives, like twins separated at… well, age 12 and 13 I guess.
We went for dinner at another of my favorite spots, Guglhupf, and ate outdoors on the terrace. Even though I'm often suffering from an unsettled stomach after getting chemotherapy, this time I was spared the side-effect and felt just fine having dinner. My tummy warned me not to over-do it, so I tried to respect that reminder.
And before too long, it was time to take M. back to the airport for his trip home. His flight to the west coast was on a commercial airline and fairly easy to schedule, but traveling the rest of the way home on military flights sounds like a bit of a dance and orchestration so I felt bad that his journey home would have a lot of stops and long waits. I deeply appreciate the dedication and perspiration it took to make it all the way to my city for a visit. It was worth the world to me though, and I had a long period of comfort and happiness afterward. What an amazing gift of his calming presence! I felt such peace, like everything is going to be okay. Really I can't thank him enough!